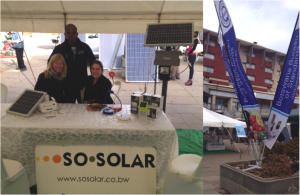 WORLD METROLOGY DAY
20 MAY 2014 WITH BOBS

Measurements and the global energy challenge. May 20 is World Metrology Day, commemorating the anniversary of the signing of the Metre Convention in 1875. This year's theme was 'measurements and the global energy challenge', bringing together the growing demand for energy, and the necessity to measure in order to achieve better efficiency, planning and supply.
So Solar joined BOBS Botswana Bureau of Standards and their partners to commemorate this day at the Main Mall. It was a well organised and joyful event, educating the public, interacting with stakeholders, explaining about our products and our very own director Karen Giffard was aired live on Duma FM!
Many thanks to BOBS and partners for organising the event.